Learn About Gina Renee Hall's Murder Timeline
Gina Renee Hall was last seen by her sister Dlana who emphatically states: Gina never met Stephen Epperly in a bar and then left with him willingly to go to a cabin at the lake to be "with" him. Dlana always believed, and now knows, that Gina was taken against her will, but that was not the story told for decades. The murderer's story became 'the story". Why? The 1980 newspaper clippings give an interesting perspective on when exactly that
"composed story" began..
Saturday, June 28, 1980 9:50 PM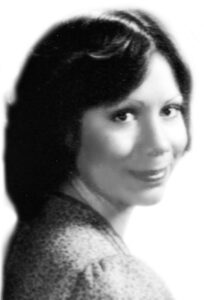 Gina Renee Hall borrows Dlana's Monte Carlo to go dancing at the Marriott Inn in Blacksburg, Va.
Sunday, June 29, 1980 1:00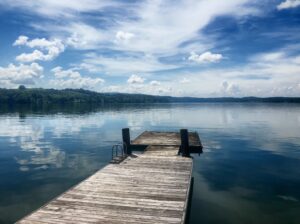 Dlana receives a phone call from her sister. Gina's tone is out of character—an apprehensive nervousness in her voice. Dlana asks Gina, Where are you? Gina answers her sister, "I am at the lake". What are you doing there? "I am looking at it." Well, who are you looking at it with? Gina's response —one word—"Steve"…CLICK… Gina does not come home. Dlana Hall & friends begin searching Sunday morning.


The Abandoned Monte Carlo found by Dlana and Gina's friends. The Monte Carlo was abandoned on Hazel Hollow Road parked almost under the train trestle that crossed the New River from Pulaski County Into Radford, Va. A public boat launch near by. Trooper Austin Hall of the VSP discovered the blood stains in the trunk with visible strands of human hair stuck in the bloody trunk carpet. Forty hours after having last seen Gina, Dlana was certain Gina had been in that trunk—dead or unconscious. And later, the lab report would confirm she had been.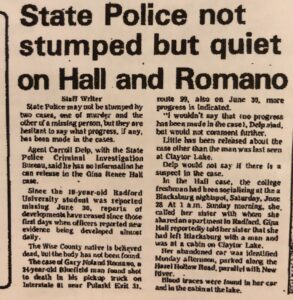 Gary Romano murder discovered on I -81 near Pulaski Exit. Murder occurred around 1 to 2 AM June 30. Two murders in 24 hrs of each other.
The New River is searched and dragged near the trestle on Hazel Hollow Road where the car was abandoned.
July 1, 1989 Search For Gina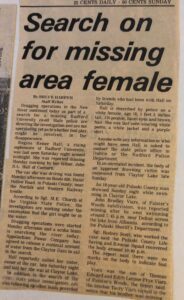 One of the first articles titled Search on for Missing Girl had the story close to correct. It was reported that Gina Hall called her sister and told her she was AT CLAYTOR LAKE. This is the only article that got the story correct - my truth as her sister. This article was written before Epperly was even known to have been involved…before telling "his story" to the authorities… before foul play was discovered at the lake house. By late Tuesday, July 1, 1980, the "composed story" had begun. The statement given by Gina's murderer and his best friend became "the facts" of Gina Renee Hall's last moments. After that day, the "composed story" and the "sensationalized story" carried forward for decades - a story that Gina Hall went "willingly" with Steve Epperly  ~ a story repeated over and over ~that Gina met a man at a nightclub, left to be with him to go to a secluded cabin on the lake...NO! Gina was abducted, but no body was found to speak her evidence of her truth, so Gina had no voice in that one-sided killer composed story - until now.
July 2-3, 1980 The Lake House
The insurmountable evidence inside the lake house definitely painted a picture of Gina's fight in the end. Gina's blood was there. Her hair was there. And the blue towel covered in matching carpet fibers cleaned up her blood, her hair. She was beaten fiercely in that lake house.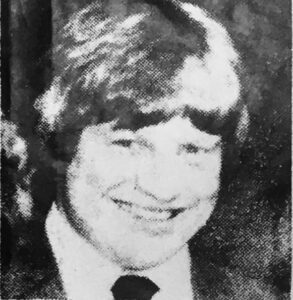 Within days of Gina's disappearance, Epperly, who had twice before been tried on rape charges, was a person of interest. "Steve"—Fails polygraph July 2, 1980. And within five days, the one and only prime suspect. What we never knew in 1980 was the rest of the story until now.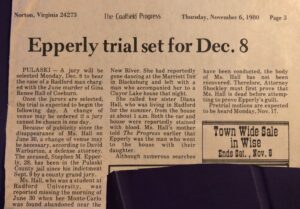 Epperly is released on bail and Trial Date is set. On November 17, 1980 Pretrial Hearing for admissibility of Polygraph.
December 4, 1980 ...still Searching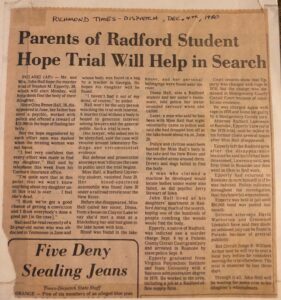 December 8, 1980 Murder Trial Begins with Jury Selection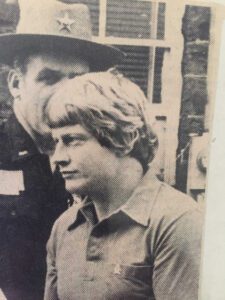 Stephen Epperly enters courthouse on trial for the murder of Gina Renee Hall wearing his arrogant and confident demeanor.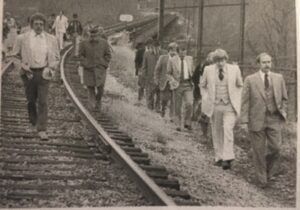 The Trial began with a field trip to the trestle and the lake house for the judge, jurors, attorneys, court officials, and Stephen Epperly (second on right). Dlana Hall, sister of Gina Hall was the first witness called.
The prosecuting attorney for the Commonwealth of Virginia, Everett Shockley, tried Epperly with only circumstantial evidence—no body, no confession, no witness. He met that burden of proof. Epperly was convicted of murder in the first degree of Gina Renee Hall in Pulaski County, Virginia, and sentenced to life in prison.
As Epperly was led out of the courthouse, the confused, look on his face shows his shock and surprise as if asking himself, How did that happen – How did I not win – They did not have the body?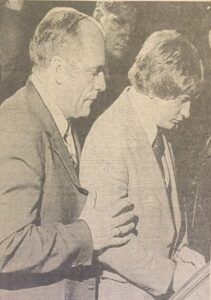 December 16, 1980 Jury Finds Epperly Guilty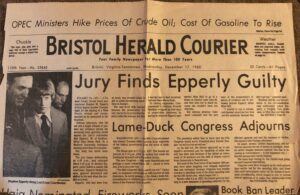 Many believe the dog tracking, with much debate, was an integral piece that helped convict Epperly. It was not, but what it did do is certainly make the trial a more interesting story to tell. Epperly was convicted because of his own statements made to others that became evidentiary facts that supported the extensive exhibits of circumstantial evidence introduced throughout the trial. Gina's character also played an important role in his successful conviction.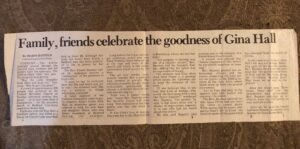 The "composed story" even made it to Gina's funeral. The only explanation for those that knew Gina was that he was a master of impressions. All it would have taken to set the story right would be to bring up the broken door handle or the female witness at the upscale Marriott who came forward the first week reporting what she witnessed inside the Marriott, then maybe everyone would really know what happened in the Marriott parking lot...moments before she was taken, or , or , or…To simply pause and question as the minister did…why would Gina have ever gone with him? The definitive answer: Gina would not have but that would mean the story would have to be changed – corrected.The killer's story became "the story" and it is still "the story" today— Time for some long overdue truth.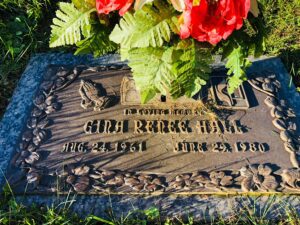 The Hall family did not have Gina's bodily remains to lay to rest. Everyone went through the motions of having a funeral, remembering all that was good about Gina, but it was a funeral without a body, a headstone with an empty grave.
January 1981 - Coincidence?